Lodging hotels in Sterzing / Vipiteno
Comfort - mountain suite
for 2 - 5 person/s
| 78 m²
On the ground floor: wardrobe with shoe dryer, day-toilet with shower and towels, fully equipped kitchen, corner bench with table, smart TV, stove, bedcouch, terrace with chair, WLAN and minibar.
Upstairs: sleeping area with comfortable box-spring bed, wardrobe with safe, bathroom with bath, WC, bidet, towels and bathrobe, balcony with deckchairs, additional bedroom with bunk bed, bedcouch and balcony.
Equipment: Double bed, Bunk bed, Sofa bed, Balcony, Terrace, Separate living area, Bed linen provided, Safe, Eat-in kitchen, Mini-bar, Electric cooker, Cutlery provided, Shower/Bath tub, 2 or more bathrooms, Bidet, Bathrobe, Towels, TV, Satellite/Cable, WLAN, Main building, Panoramic view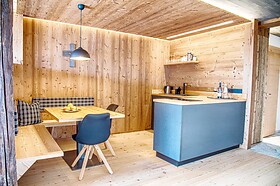 Junior - mountain suite
for 1 - 2 person/s
| 44 m²
Suite ground floor for 2 persons with boxspringbed, daybed, full equiped kitchen, bathroom with shower and bidet, towels, bathrobe, terrace, wlan, minibar and safe.
Equipment: Double bed, Sofa bed, Terrace, Separate living area, Bed linen provided, Safe, Eat-in kitchen, Coffee machine, Mini-bar, Dishwasher, Electric cooker, Microwave, Cutlery provided, Hob, Shower/Bath tub, Bidet, Hair dryer, Bathrobe, Towels, TV, Satellite/Cable, WLAN, Main building, Panoramic view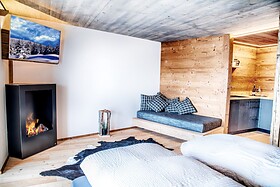 Junior + mountain suite
for 2 - 3 person/s
| 50 m²
suite for 2 to 3 persons with comfortabel boxspringbed, daybed, full equiped kitchen, bedroom with balcony, bathroom with bathtub and bidet, towels, bathrobe, terrace, wlan, minibar, smart TV and safe
Appartement 2-4
for 2 - 4 person/s
| 35 m²
Equipment: Single bed, Double bed, Double sofa bed, Garden, Bed linen provided, Eat-in kitchen, Dishwasher, Electric cooker, Cutlery provided, Shower/Bath tub, Bidet, Towels, TV, Cleaning upon request, Main building, South view
Appartement 2-6
for 2 - 6 person/s
| 55 m²
Equipment: Double bed, Bunk bed, Double sofa bed, Garden, Bed linen provided, Eat-in kitchen, Dishwasher, Electric cooker, Cutlery provided, Shower/Bath tub, Bidet, Towels, TV, Cleaning upon request, Main building, South view
Almchalet
for 2 - 5 person/s
| 80 m²
Equipment: Single bed, Double bed, Cot, Terrace, Garden, Tiled stove/Open fireplace, Separate living area, Bed linen provided, Non-smoking apartment, 2 or more bedrooms, Eat-in kitchen, Coffee machine, Dishwasher, Electric cooker, Cutlery provided, Hob, Shower/Bath tub, Hair dryer, Towels, TV, Satellite/Cable, WLAN, Final cleaning included, Season rental possible, Hotel annex, Panoramic view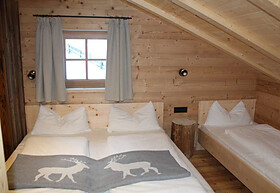 Birch
for 2 person/s
| 35 m²
Bedroom, kitchen (upon request fully equipped), audio system, two TVs, WLAN, bathroom with bathrobes, slippers and towels, balcony, roof terrace or loggia
Equipment: Double bed, Sofa bed, Balcony, Eat-in kitchen, Coffee machine, Electric cooker, Cutlery provided, Shower/Bath tub, Separate WC, Bidet, Bathrobe, Towels, TV, WLAN, Cleaning upon request, Final cleaning included, Main building, Panoramic view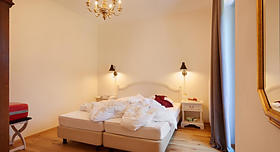 Eppurg
for 2 - 3 person/s
| 47 m²
Bedroom, kitchen (upon request fully equipped), audio system, two TVs, WLAN, bathroom with bathrobes, slippers and towels, balcony, roof terrace or loggia
Equipment: Double bed, Sofa bed, Double sofa bed, Balcony, Terrace, Eat-in kitchen, Coffee machine, Electric cooker, Cutlery provided, Shower/Bath tub, Separate WC, Bidet, Bathrobe, Towels, TV, WLAN, Cleaning upon request, Final cleaning included, Main building, Panoramic view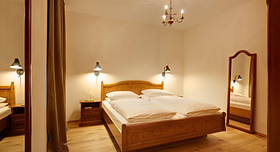 Manor
for 2 - 4 person/s
| 65 m²
Bedroom, kitchen (upon request fully equipped), audio system, two TVs, WLAN, bathroom with bathrobes, slippers and towels, balcony, roof terrace or loggia
Equipment: Double bed, Sofa bed, Double sofa bed, Balcony, Terrace, Eat-in kitchen, Coffee machine, Electric cooker, Cutlery provided, Shower/Bath tub, Separate WC, Bidet, Bathrobe, Towels, TV, WLAN, Cleaning upon request, Main building, Panoramic view