Lodging hotels in Sterzing / Vipiteno
App. Cornflower
for 2 - 6 person/s
| 75 m²
96,00 €

for occupation with 4 persons/night
Equipment: Single bed, Double bed, Extra bed, Cot, Sofa bed, Balcony, Terrace, Garden, Anti-allergic room, Bed linen provided, Eat-in kitchen, Coffee machine, Dishwasher, Electric cooker, Cutlery provided, Shower/Bath tub, Bidet, Washing machine in the apartment, TV, Satellite/Cable, Cleaning upon request, Season rental possible, Hotel annex, South view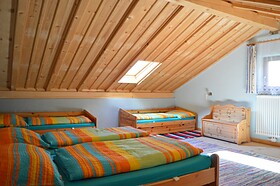 App. Red Poppy
for 2 - 6 person/s
| 75 m²
96,00 €

for occupation with 4 persons/night
Apartment Memory
for 2 - 4 person/s
| 50 m²
130,00 €

for occupation with 2 persons/night
Equipment: Double bed, Double sofa bed, Balcony, Bed linen provided, Safe, Non-smoking apartment, Eat-in kitchen, Coffee machine, Dishwasher, Electric cooker, Cutlery provided, Hob, Shower/Bath tub, Bidet, Hair dryer, Towels, Washing machine in the apartment, HiFi, TV, Satellite/Cable, WLAN, Panoramic view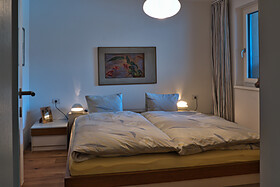 Apartment 8 - 12 persons
for 2 - 12 person/s
| 120 m²
170,00 €

for occupation with 6 persons/night
The apartment Grabe occupies an entire floor, ideal accomodation for groups of friends or large families. Every room is furnished with a washbasin; the kitchen has two large tables, providing the possibility of socializing with comfort. Private balcony and garden with playground and barbecue.
Equipment: Single bed, Double bed, Extra bed, Balcony, Garden, Separate living area, Bed linen provided, 2 or more bedrooms, Separate kitchen, Eat-in kitchen, Coffee machine, Electric cooker, Microwave, Shower/Bath tub, 2 or more bathrooms, Separate WC, Washing machine in the apartment, TV, Satellite/Cable, WLAN, Cleaning upon request, Final cleaning included, Season rental possible, Main building, Panoramic view
Appartement 2 - 8 persons
for 2 - 8 person/s
| 50 m²
80,00 €

for occupation with 4 persons/night
Newly furnished attic apartment for couples or families with children. Wonderful mountain view. Spacious garden with barbecue and playground for children.
Equipment: Single bed, Double bed, Bunk bed, Garden, Bed linen provided, Non-smoking apartment, 2 or more bedrooms, Eat-in kitchen, Coffee machine, Electric cooker, Cutlery provided, Shower/Bath tub, Bidet, TV, Satellite/Cable, WLAN, Cleaning upon request, Final cleaning included, Season rental possible, Main building, Panoramic view, South view
Apartment 2-5 people
for 2 - 5 person/s
| 55 m²
105,00 €

for occupation with 2 persons/night
Equipment: Double bed, Cot, Double sofa bed, Balcony, Tiled stove/Open fireplace, Separate living area, Bed linen provided, Safe, Non-smoking apartment, Eat-in kitchen, Coffee machine, Dishwasher, Electric cooker, Microwave, Cutlery provided, Shower/Bath tub, Bidet, Hair dryer, Towels, TV upon request, Satellite/Cable, WLAN, Final cleaning included, Panoramic view, South view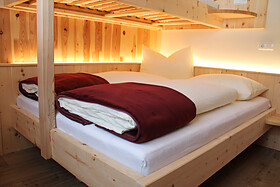 Apartment 2-6 people
for 2 - 6 person/s
| 55 m²
105,00 €

for occupation with 2 persons/night
Equipment: Double bed, Cot, Bunk bed, Double sofa bed, Balcony, Terrace, Tiled stove/Open fireplace, Separate living area, Bed linen provided, Safe, Non-smoking apartment, Eat-in kitchen, Coffee machine, Dishwasher, Electric cooker, Microwave, Cutlery provided, Shower/Bath tub, Bidet, Hair dryer, Towels, TV upon request, Satellite/Cable, WLAN, Final cleaning included, Panoramic view, South view
Double room
for 1 - 4 person/s
| 30 m²
Double room
Equipment: Double room, Double bed, Extra bed, Room with connecting door, Mini-bar, Safe, Shower / Bath tub, Bidet, Hair dryer, Bathrobe, TV, Satellite/Cable, Internet access, Main building
Single room
for 1 person/s