Accommodation for 2 Adults
Accommodation for 2 Adults
Accommodation for 2 Adults
Room with 3 beds
Equipment: Multi-bed room, Single bed, Double bed, Extra bed, Balcony, Shower / Bath tub, Main building
Accommodation for 2 Adults
• Spacious double room with satellite TV, WLAN, telephone, minibar, safe, balcony and sitting area • Offers 35 m² of space • The bathroom has a shower/bathtub, WC, bidet, cosmetic mirror and hair dryer.Spa bag with fluffy bathrobe and slippers • Occupation: 2-4 people • Each room is furnished individually. Slight variations from the description are possible. • ALL OUR ROOMS ARE NON SMOKING ROOMS.
Equipment: Single room, Double bed, Mini-bar, Safe, Shower / Bath tub, Bidet, Hair dryer, Bathrobe, TV, Satellite/Cable, WLAN, Main building
Accommodation for 2 Adults
The rooms Komfort "Eisack" are furnished either with natural wood- appropriate for allergy-sufferer or with carpet in order to create a cozy atmosphere. The room's size is about 22 - 28 square metres. Equipment: LCD TV, Internet WI-Fi, Telephone, Safe, Bathroom, Balcony. Available for 1 - 4 persons.
78 m² for more comfort: living room, 2 bed rooms, kitchenet, separated area for work with WIFI connection, two bathrooms and balcony. You can make use of all services and advantages of a hotel - holiday while enjoying the commodities of an apartement.
Equipment: Double bed, Extra bed, Cot, Sofa bed, Air conditioning, Safe, Separate kitchen, Eat-in kitchen, Coffee machine, Dishwasher, Microwave, Cutlery provided, Shower/Bath tub, Bidet, Hair dryer, Bathrobe, TV, WLAN
Accommodation for 2 Adults
Equipment: Double bed, Extra bed, Cot, Double sofa bed, Balcony, Garden, Bed linen provided, Safe, Eat-in kitchen, Coffee machine, Electric cooker, Cutlery provided, Shower/Bath tub, Bidet, Hair dryer, Towels, HiFi, TV, Satellite/Cable, WLAN, Final cleaning included, Season rental possible, Main building, Panoramic view, South view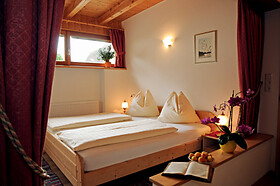 Equipment: Single bed, Double bed, Cot, Double sofa bed, Garden, Bed linen provided, Safe, Eat-in kitchen, Coffee machine, Electric cooker, Cutlery provided, Shower/Bath tub, Bidet, Hair dryer, Towels, HiFi, TV, Satellite/Cable, WLAN, Final cleaning included, Season rental possible, Main building, Panoramic view, South view