Rofis Boden - forest clearing in Stilfes near Sterzing
Recreation, games and fun in the forest in Freienfeld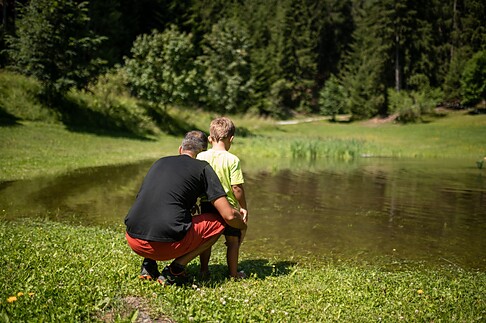 General description
The Rofis Boden in Stilfes near Sterzing is one of Freienfeld's natural gems. A few minutes' walk above the center of Stilfes leads to a large clearing right in the middle of the forest. There you will find a small natural pond, extensive green meadows, a barbecue area, a pavilion and a playground made of natural materials.
Description to arrive at destination
From Sterzing south in direction Freienfeld, once there turn right to Stilfes. Shortly after the village center in the direction of Pfulters, the short, somewhat steep forest path begins directly from the village road, from here its about a 20 minute walk. As there are only a few parking spaces, it is recommended to use public transport (Village-bus from Freienfeld, line no. 308, stop village center of Stilfes, approx. 30 minutes or with the line-bus no. 310, stop Freienfeld, from there it is a 45 minute footwalk).
Contact
Recommended season
May, June, July, August, September, October